Trailers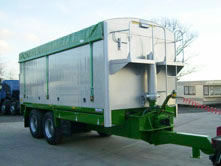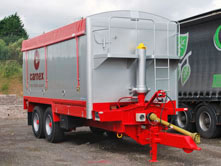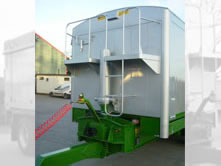 Muldoon Agri Trailer
The Muldoon TRACTOR OPERATED AGRI BULK BLOWING TRAILER is a convenient and economical way of transporting animal feeds using an agricultural tractor or a fast-track machine. This system dramatically reduces transport costs, as it elimates the need for a HGV, HGV driver, high insurance and all the other high running and maintenance costs associated with HGV's. The operation can run solely on agricultural diesel.
The blowing equipment is driven via the PTO on the tracor and works along the same principle as a HGV blowing vehicle.
Trailers can be supplied in a range of capacities up to 14 tonnes and can be divided into multiple compartments. The minimal size and compact nature of the trailer allows for easy manoeuvrability and access to small places. Features include high speed road axles, air brakes, roll-over cover, windows and grain hatch. The trailer comes with 12 months warranty.
Key Features
Small Bulk Blowing Trailer
Can be operated with a tractor or fast-track
Significantly lower costs overall - compared to HGV rigid vehicle or artic
Does not require driver with HGV licence
Easy maintenance - Low costs
Sturdy construction
Can be divided into required compartments
Roll over cover
High Speed Axles
Easy connection to tractor unit
Air brakes optional